---
MASONIC LODGE LAYOUT
---
The layout below is typical of a Masonic Lodge. While the entrances sometimes vary due to structural configuration, the majority are thus oriented.
Grand Lodge, when in session, follows pretty much the same arrangement. The name of the office as listed in the diagram pertains to the Craft Lodge, or Blue Lodge as it is sometimes known. By simply adding the prefix "Grand" to the officers, we have the Grand Lodge layout. There are, however, extra offices in Grand Lodge with no particular seating arrangement other than the District Deputy Grand Masters who are seated near the Secretary's desk. Other Grand Lodge Offices not listed in diagram, in no particular order, include: Grand Organist, Grand Standard Bearer, Grand Sword Bearer, Grand Historian, Grand Piper and Assistant Grand Director of Ceremonies. The presiding Master of each Blue Lodge holds the position of Grand Steward.
Below is a typical British lodge layout. Holding your mouse over the shaded chairs will produce a pop-up with the name of the Grand Lodge Officer occupying that position. Clicking on it, or the link above, will bring up a picture. Please use your browser "back" button to return to this page.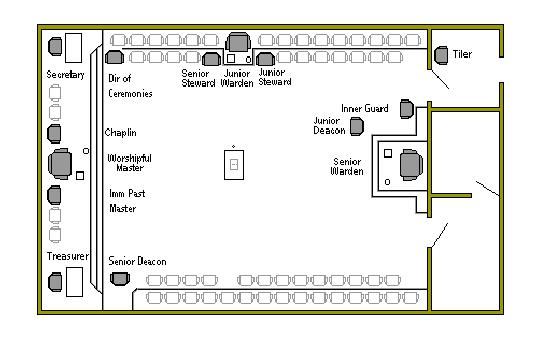 Below is a typical US lodge layout. As you can see there is not that much difference